My husband sent me here and made sure I came home with the Kudzu soap! He loves it! He smells so good when he wears it! –customer at Canton Flea Market, Canton, MS
The soap is soothing, refreshing, and long lasting. I have always enjoyed them and look for them each year at the Pecan Festival. –Linn
I love the way these soaps smell and make your skin feel! –Lisa
I just wanted to let you all know what a tremendous blessing your oatmeal and honey soap has been to my life. I have had SERIOUS dry skin and dandruff since junior high school. I have had to shampoo my hair daily, which is NOT healthy for African American hair, yet by the evening, it would be flaky again. I had visited dermatologists and different cosmetologists. No one could help me. In an effort to become more healthy and resist the urge to keep putting harsh chemicals in and on my body, I started using your soap, found at 'Lil Butchers. My skin and hair are more healthy and the dandruff is non-existant—with me only shampooing with the soap on Sundays and Wednesdays. Thanks! It's GREAT! My husband is military and HARD to please. He even loves your product. That is unreal! –Felicia
Wonderful! This is my third year here (at Pecan Festival) to buy them! –Jane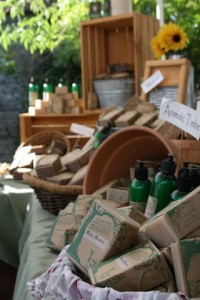 Second year customer–wouldn't buy anything else–use it for shampoo also. Husband uses Cedar during hunting season. Wonderful stuff. –Dede B.
Both me and my husband suffered from skin rashes and being very sensitive to everything. The goats milk soap has really helped us and both our skin is now clear and healthy. Plus it smells wonderful! –Jennifer M.
My husband and I both love this soap. It is wonderful! We use it all the time. –Ann and Jerry H.
Love the gentle, soothing scent, skin is softer and no longer flakey from other drying soaps. Especially love that the soap is natural with no chemicals. –Paula
This is the BEST soap ever! –Brandi
I come to the Canton Flea Market just for your soap!
I stay stocked with your soap! Love it!
"It works! Yeah, you told me to try it on my hair and I thought you were crazy, but I was out of shampoo one night and tried it and was like…dad gum! It's wonderful! " –Helene from Ocean Springs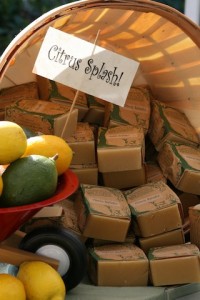 –Email us your comments about our products and they may show up here!–